Reserved for Claudia "Atlantis Tail"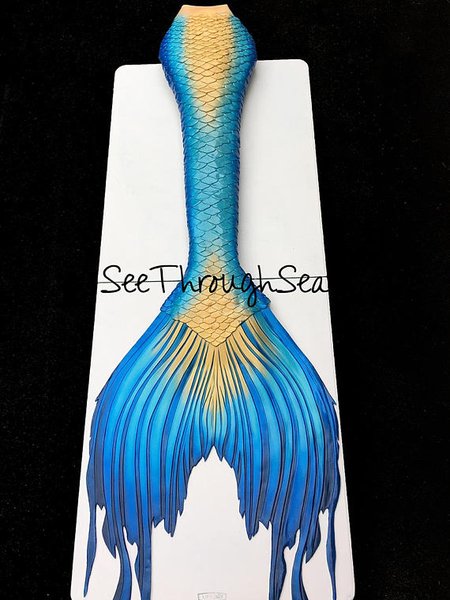 Pre-Made Silicone Mermaid tail equipped with Finis Trainer Monofin for sale
Named the "Atlantis Tail" for its varying hues of blue and regal gold accents, this pre-made silicone tail flaunts Parrotfish Scales, an Odyssey Fluke, Odyssey Ankle Fins and Gold Scale Enhancements (each scale is outlined in gold paint to create a 3D effect.)
This tail has been used in 1 photoshoot and is in Brand New condition.
Measurements are as follows:
Suggested height : 5'7 - 6'0

(Model is 5'7) Waistline can be trimmed and painted to match purchaser's skin tone)
Shoe Size: between 8.5-10 (US)
Body Circumference :

Waist at Belly Button : 29" - 35"
Butt : 36" - 42"
Knees: 20" - 26 "
Calves: 20" - 36"
Ankles: 14" - 16"
Top not included but can be custom ordered.