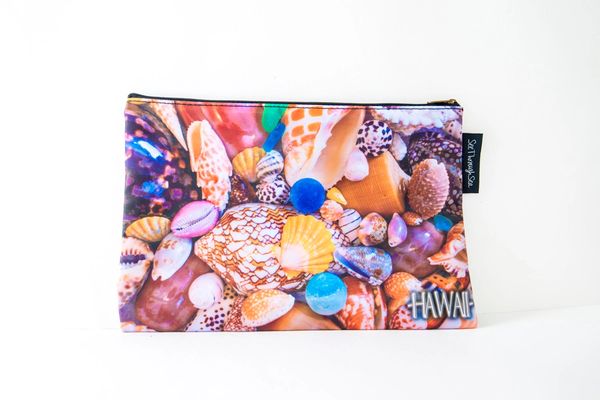 **A portion of the proceeds from this clutch will be donated to the West Hawaii Marine Mammal Response Network

Image of Hawaiian shells and marbles found during Jim and Alicia's walks along the beach. No animals were harmed or removed, each shell located was found empty. "Hawaii" located in the bottom right hand corner.
After introducing our original photo clutches back in 2012 and then discontinuing them for the year of 2015, we are proud to introduce our new and improved Original See Through Sea photo clutches! Clutches are now printed with exceptional clarity and high quality inks, have been resized for convenience and each is adorned with an official "SeeThroughSea" tag! 
10.75" x 7"  Cotton/Polyester blend Water Resistant clutch. Black internal lining with large zippered coin pocket. Machine washable, hang in a shaded area for drying.